Welcome to Official Homepage of ANUPA Nigeria
The Association of Nigerian University Professional Administrators henceforth referred to as ''ANUPA'' is the mouth piece of Professional Administrators in Nigerian University. It is a forum for mutual education and cross fertilization of ideas on universities.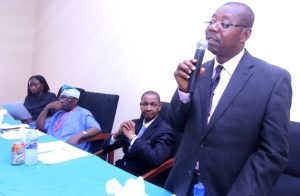 ANUPA, a brainchild of ARNU is charged with the training of young Administrators in Nigerian Universities. Thus as a body, ANUPA firmly believes that the strength of every organization, and indeed, every University is in her people, teaching and non- teaching. Consequently, the thrust of its activities remains ensuring that a variety of trainings is made available in order for staff to be productive in their different roles within the Universities and develop as individuals. Staff development and training should therefore, form a fundamental part of our Universities.
ANUPA aims to promote and advance professional administrative knowledge and best practices in Nigerian Universities.
Click here to download the flier for the upcoming training for junior administrators by April 2020 at the main auditorium of public Service Institute of Nigeria, (PSIN) Abuja.
Click here to download the 2019 ANUPA National AGM/Annual Conference Flyer
Click here to download the concluded 2019 training program of event for senior administrative staff that come up on Monday July 8th to July 11th at Main Auditorium Merit House Aguiyi Ironsi Street Maitama Abuja
Click here to download the concluded 2019 training resource materials for the Senior administrative staff that took place on Monday July 8th to Thursday 11th July at the Main Auditorium Merit House Aguiyi Ironsi Street Maitama Abuja
Click this link to download the updated ANUPA Directory
Please Click here to Check the members list of your University and call ANUPA NATIONAL VP 1 (Mr Robert Bisong) ON 08064813119 to verify and update your Name through the National Secretariat of ANUPA NIGERIA if not found on the list. New Universities Inaugurated will be updated shortly. You can also download the updated list at the bottom of the page.

Click to download the Letter seeking for funding from government Agencies
Click here for the information on upcoming National Council meeting taking place at Federal University, Minna, Niger State:
Click to download the concluded 2019 ANUPA TRAINING FOR JUNIOR ADMINISTRATIVE STAFF FLYER.
INFORMATION COMMUNICATION TECHNOLOGY (ICT)AND THE FUTURE OF NIGERIA'S HIGHER EDUCATION: UNIVERSITY ADMINISTRATORS LEADING THE CHANGE.
CRITICAL NEGOTIATION SKILLS FOR UNIVERSITY ADMINISTRATORS
CRITICAL CONFLICT RESOLUTION AND NEGOTIATION SKILLS FOR UNIVERSITY ADMINISTRATORS
DEVELOPING METRICS FOR PERFORMANCE MANAGEMENT OF PROFESSIONAL UNIVERSITY ADMINISTRATORS OF NIGERIAN UNIVERSITY
TRAINING DESCRIPTION
In fulfilling the mandate of spear-heading training for university administrators, ANUPA is very conscious of the fact that academic excellence must be supported by professional support staff.
Therefore, there is a compelling imperative for continuous training and re-retraining of her members who must hone existing skills and urgently develop contemporary ones; particularly IT skills to be able manage operational aspects of a university increasingly being driven by IT. Sadly, across Nigerian Universities, the reality is that a significant percentage our low and middle level Administrators rate very poorly in the competencies and skills for their roles.  A university administrator who can deploy sound IT skills in the various processes of university administration is an asset and would contribute productively to the achievement of university goals of:
Create, advance and disseminate knowledge
Develop outstanding high quality graduates and scholars.
Make resounding impact upon local, national and the global society.
The critical question is how Professional University Administrators fit into helping universities achieve all of the above in an ever changing business environment?
Workshops/training are organized to provide opportunities for higher education administrators to make administration technology friendly, develop positive attitude in respect of interpersonal relationships and provide dynamic leadership in university planning, administration and management.
Click here to download the concluded training flier for Senior Professional Administrator themed the University in Challenging times : Issues for Professional Administrator coming up on Monday July 8th 2019 to July 11th 2019 at Main Auditorium Merit House Aguiyi Ironsi Street Maitama Abuja
We implore all ANUPA Nigeria Members to subscribe to ANUPA  Newsletter by clicking here!