Click here to download the Memo by the National Council of ANUPA Nigeria putting on hold the 2022 ANUPA training workshop for Senior University Professional Administrator arising from the reports of worsening security situations in Abuja.
CLICK HERE TO DOWNLOAD PROGRAMME OF EVENTS FOR ANUPA 2022 TRAINING WORKSHOP FOR SENIOR UNIVERSITY PROFESSIONAL ADMINISTRATORS SCHEDULED TO HOLD FROM TUESDAY,16TH TO FRIDAY, 19TH AUGUST, 2022 AT SSANU NATIONAL SECRETARIAT, BESIDE KING'S COURT ESTATE, IDUH JUNCTION, JABI ROAD, DAKIBIU, ABUJA, FCT.
Click here to download the flyer of event for the August 16 to August 19, 2022 training for senior administrators of ANUPA.
Click here to download ANUPA training workshop for SENIOR ADMINISTRATORS…
REMINDER ON THE 2ND ANUPA COUNCIL MEETING FOR 2022
I write to remind all our distinguished Council Members across all Nigerian Universities that the next Meeting shall hold as below :
Date : Thursday 30th June,2022
Venue : SILVER LAND HOTEL & SUITE ,AREA 11,GARKI ABUJA
Time : 10.00am
Please ,attend and be punctual
Click here to download the flyer of event.
Thank you.
Dr. Donald Akinmade
NPRO
ANUPA- BREAKING NEWS
The Executive Governor of Sokoto State has graciously approved the appointment of Mrs K. N Abubakar as the new Registrar of Sokoto State University, Sokoto .
Before her new appointment,Mrs K N Abubakar was the Chairperson of the Sokoto State University branch of ANUPA. The National President (Dr Victor Bem) ,members of NEC, NC and the entire ANUPA family in Nigeria congratulate our new Registrar and wish her success on this exalted position .
ANUPA !
ADMINISTRATION FOR SERVICE !
Dr.Donald Akinmade
NPRO
Click here to download the 1st 2022 National Council Meeting of ANUPA 
Click here to download the 4-Days training workshop flyer on repositioning the University Registry in the New Normal – Challenges and prospects.
The National Council Meeting of ANUPA was held today at the Merit House Abuja today while the Training for Junior Administrative Officers would commence at Public Service Institute,Abuja from tomorrow 27th April,2022
DOWNLOAD THE CALL FOR NOMINATION OF PARTICIPANTS FOR 2022 ANUPA JUNIOR PROFESSIONAL ADMINISTRATIVE OFFICERS HERE!
REVISED CALENDAR FOR NEC, NC (MEETINGS) AND JNR. UNIVERSITY PROFESSIONAL ADMIN OFFICERS' TRAINING. 
1. Sunday, 24th April, 2022 – Arrival of NEC Members.
2. Monday, 25th April 2022 – NEC Meeting
3. Tuesday, 26th April, 2022 – NC Meeting 
4. Wednesday, 27th April, 2022 – Arrival of Participants for Jnr. University Professional Administrators Training Workshop 
5. Thursday, 28th and Friday, 29th April, 2022 – Training Workshop 
6. Saturday, 30th April, 2022 – Departure
Click here to download the 4-Days training workshop for Junior University Professional Administrators
coming up on Wednesday April 27, 2022 to April 30, 2022 at Abuja, Nigeria.
REALLY A LANDMARK: ANUPA NATIONAL SECRETARIAT NEARING COMPLETION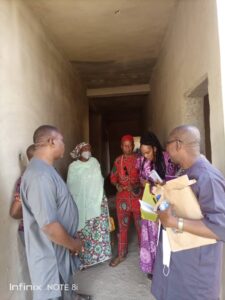 It was an exciting and historic moment today Monday 24, January,2022 as the multi million naira ANUPA Secretariat located at Bwari in Abuja was handed over to the new President of the great Association Dr Bem by the immediate past President,Barrister T. Igwe.
The remarkable event was attended by old and new members of ANUPA National Executive Committee members.
While taking possession of the building,the new President promised to take the project to the next level and that his administration would do it's best to innovate every spectrum of ANUPA and prioritise excellence .
Dr. Donald Akinmade
NPRO Reporting
*LETTER OF INVITATION*
The Acting Registrar,Mr. Edward U.Aihevba,on behalf of the Registry, Ambrose Alli University, Ekpoma cordially invites all Registry staff,Deans, Directors,Head of Departments and the entire University Community to the first in the series of Ambrose Alli University Registry Lectures,to be delivered by **Mr. Ambrose Odiase,* Deputy Registrar(Council Services)
Topic: *The Role of Professional University Administrators and Servicing of Committees: The Dos and Don'ts*
Under the distinguished Chairmanship of
Prof. Osarhieme Benson Osadolor, Acting Vice-Chancellor
Date: Thursday, January 6th,2022
Venue: Rev.Chris Oyakhilomen's Auditorium
Time: 3pm.
Guests should be seated at 2:30pm.
Signed
*Mrs. O. O. Agbebaku- Deputy Registrar*
The Benue State born Dr Victor M Bem emerged President of the noble association during its National Conference and Annual General Meeting held at Public Service Institute in Abuja on Friday the 26th of November, 2021.
The Chairman of electoral committee, Mr. Samson  O Adefarakan from university of Lagos  presented certificates to the new elected executive of the association. He further expressed joy over the success of the election and appreciated members for the opportunity given to him to head the committee and thanked the association for giving him an award of excellence .
The president appreciated the members for finding him worthy to lead them for the next two years, he pledged that he and his colleagues will do their best to move the association to greater heights
Dr Victor Pledged to give ANUPA visibility and ensure the completion of the ongoing association secretariat.
He further stated that he will pursue the association vision of being charted
The former president of the association, Barr. Titus Igwe, who expressed delight in handing over the mantle of leadership after completing two terms successfully . He further stated that it is good for a leader to produce a successor as this gives opportunity for continuity and urged the newly elected to put in their best in running the affairs of the association .
Other newly elected excutive members include; Mrs. Stella Oluwayemisi Soola, 1st  Vice- President  , Mrs Jallaba Sheikh, 2nd Vice- President, Mrs. Blessing Chijindu Ezeafulukwe (Ezeobi), National General Secretary, Mr. Stephen Dantani Ibrahim, Assistant National General Secretary, Mrs. Teena Ugbomeh Nwabuife, National Treasurer, Mr. Umar Shehu Jabo, National Financial Secretary, Mr. ADENIJI, Joseph Akin, National Training Officer, Dr. Donald Olufisayo Akinmade, National Public Relation Officer, Mr. Ibrahim B. Abdullahi, Editor-in-Chief, Barr. Isaac Adinya Ataben, Legal Officer, Barr. Titus I. Igwe, Immediate Past President Ex-Officio, Barr. Okey Ikegbunam,  Past President Ex-Officio.
Some members who earlier showed interest in key positions stepped down for others in the spirit of unity and to apply the zoning policy which gives both north and south equal opportunity.
ANUPA is an Association of Nigerian University Professional Administrators With Aims and Objectives to promote and advance professional administrative knowledge and best practice through workshop and seminars;
The association promotes individual and corporate welfare of the members; arrange conferences for the exchange of ideas in the development of the administrative and management of higher education;
It provides forum for the discussion of current problems in the universities education
ANUPA facilitates the exchange of information on professional, managerial and administrative activities as well as techniques and skills among members and maintain links with the university administrators and managers of other bodies involved in higher education locally and internationally.
Click here to download and listen to the voice jingle of ANUPA on upcoming 2021 Annual General Meeting
Click here to download the Program of Events of 2021 National Conference and AGM of ANUPA
CEOAfrica::Africa Online News Portal– ANUPA set to hold a 4-day Annual General Meeting in Abuja
Click here to download the flyer of ANUPA 2021 National Conference and Annual General Meeting 
On 21st day of October ,2021, history was made as the University of Abuja branch of the Association of Nigerian University Professional Administrators was officially inaugurated . The inauguration ceremony of the University established in  1988 was attended by the Vice -Chancellor, Registrar  and the representative of the Bursar . Speaking during the ceremony ,the Vice -Chancellor, Prof. Na-Allah reiterated his commitment to the task of training administrators in his University and making them competent for the 21st Century challenges . In his own address ,the President of ANUPA,Barrister T. Igwe encouraged the new Branch to brace up for the challenges ahead and ensure that they participate actively in all ANUPA programmes. He said further that it is by doing this that their personal competence and knowledge of the job could be enhanced .Members of the Abuja branch were subsequently made to take the oath of the Association which was conducted by the National Secretary ,Mr Sarafadeen Adebisi. Other Exco members that graced the occasion were: Mr S. Nwasat,(Ex-Officio),Malam A. Bashiru (Fin. Sec), Mr Tony Njoku (ASG), Mr Akin Adeniji (NTO), Mr A. Ibrahim (Editor) and Dr. Donald Akinmade ( National Public Relations Officer )
Please be informed that Induction workshop of new Administrators and ANUPA members of Micheal Okpara University of Agriculture Umudike (MOUAU) was held on September 22 – 23, 2021 at the University's Senator Pius Anyim Auditorium.
Click here to download the flier for the concluded training for junior administrators by April 2020 at the main auditorium of public Service Institute of Nigeria, (PSIN) Abuja.
Click here to download the concluded 2019 AGM/ Annual Conference
Payments;
ANUPA National Account
Zenith Bank : 1011329850
Click to download concluded 2019 ANUPA TRAINING FOR JUNIOR ADMINISTRATIVE STAFF FLYER.